There are many "activity" songs and dances that can be played to get the students dancing and interacting with each other. Students of all ages love doing line dances and often times the chaperones will join in.
For your peace of mind, your DJ will have two complete music systems and two laptops containing all of your music. We also have a backup DJ on call just in case something should happen to your scheduled DJ (although this has never occurred in over six years.)
Great Dance Songs Including:
The Cha Cha Slide ● Cupid Shuffle ● The Electric Slide ● Conga Line
Chicken Dance ● Cotton Eyed Joe ● Electric Slide ● Macarena ● Hokey Pokey
YMCA ● Thriller ● Jump on It●
The key to a good school dance is to play a variety of current music, classic oldies, requests, and all the while keeping it tasteful. The dj will only use edited versions of top 40 songs. It is recommended to compile a request list of the top 20 most liked songs before the event. The goal is to create a fun, exciting, clean environment for dancing.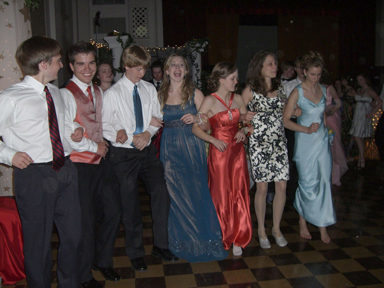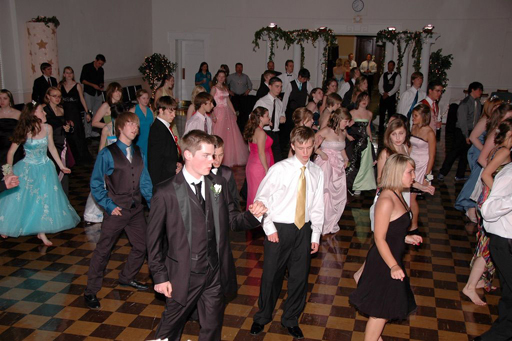 School Events
As DJ for the HEDGE Ballroom Dance Program since 2007, Dewayne Toney has consistently delivered a high quality music, sound and lighting experience that is tailored to our needs and even to our themes! Dewayne has invested thousands of hours over the past several years making sure that he had the music to satisfy our requests, editing out any marginal or offensive bits from hit songs that otherwise work in our environment. His obvious delight in what he does, combined with his excellent skills in providing just the right ambiance for each setting and his experience at "reading" and responding to even subtle shifts within a crowd have made Dewayne a very popular and sought after DJ. He is a one man show, always ready to whip out an alter ego when needed and become DJ Daddy Disco or any number of other fun characters. All of that would be great, but his consistent dependability and 'whatever it takes to get the job done right" attitude have made him a central and essential fixture in our dance program! I highly recommend him for any special event!
Ruth Ann Ludden
Director, HEDGE Homeschool Ministries, Inc.
Hire a DJ for the following school events:
Proms

Carnivals

Walk-a-thons

Valentine's Day Dances

End of the Year Dances

And Fundraising Parties
We are available to do your student's party or school dance, whether it is held on a weekday, or on the weekend. Please refer to our rates on the Request Information Page.
Weddings ● Birthday Parties
Karaoke Parties ● Block Parties
Corporate Events ● School Events
Special Events